Phyllis Meyler Bamkin was born on the 21 September 1924 in Fremantle to Frederick and Sus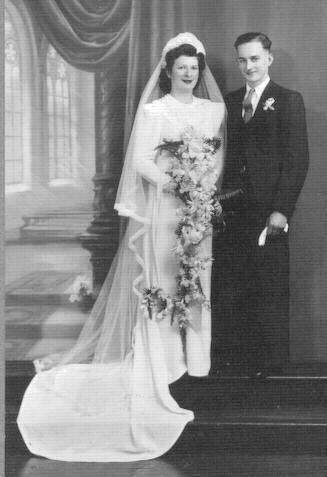 an Bamkin. She was a child during the great depression. During World War II, her father served overseas in the Army. Although Phyllis was an only child, she grew up with an adopted brother, Bobby, and later gained a much-loved stepsister Norma. Mum was unaware that she had an older sister living in New Zealand.

During her early years, her parent's owned and operated bakeries in Mullewa and Geraldton. During these school years Phyllis made many enduring friendships. The family later moved back to Spearwood and Phyllis spent several years in Perth.

George Brown was the eldest child of Lindsay and Margaret (Nell) Brown who married in Geraldton on 20 April 1920. George had three brothers, John, Tom and Harold; and three sisters, Dorothy (Topsy), Margaret (Peggy) and Noreen (Billy).

Phyllis Meyler Bamkin and George Brown married on 31 October 1942. They had three sons, Trevor, Lindsay and Rodney. The family lived in Aberdeen St,North Perth, and St Albans Ave, Highgate - suburbs of Perth, WA.

As their eldest son, I recall that our family life was very happy throughout our younger years. George was a highly skilled metalworker, panel beater and spray-painter. He was forever utilizing his metal skills by making his children toys, such as peddle-cars, scooters, 3-wheeler bikes and trolleys.


Phyllis is shown here with young Lindsay and Trevor (standing). Phyllis and George divorced while we children were still quite young. Phyllis married John Hollingsworth. For reasons that are not clear, the boys were placed into an orphanage where they remained for 6 months until their father could make arrangements to support them. John and Phyllis moved from Perth and managed a number of rural properties over the next few years and had a daughter, Syria, on the 3 August 1957.

George removed the boys from the orphanage and we went to live at his sister's dairy farm at Mount barker. We lived with Peggy and Alan Toovey and their family for a year or two. George met Maureen Herbert, born 23 October 1936 to parents Melville (Pat) George and Beatrice Herbert. They married on 23 December 1955 and we then moved into a number of rented premises in and around Mount Barker, until George and Maureen purchased a house within the township. My brothers and I lived with our father and Maureen for a few years then moved to live with our mother and her second husband, John Hollingsworth.

John Hollingsworth had reluctantly accepted the responsibility of caring for the three boys who had wanted to live with their mother and there were considerable tensions in the home, which worsened over a number of years. This was aggravated by John Hollingsworth having an alcohol problem. Life improved significantly after Phyllis and John Hollingsworth divorced whilst the boys were still in their young teens. John Hollingsworth died at New Norcia WA on 25 November 1975.

These were busy years for Phyllis as she strove to support her four children alone, and she worked hard running the Scarborough Squash Courts, at a time when Squash was only a new game to Western Australia. She made lasting friendships in Perth. It was during this period that Trevor joined the RAN. It was also about this time that Phyllis met Roy Cotterell.

Together with Roy, the family later moved to Meckering, where two more children came into her life, Mortyn and Jannette. Phyllis was 43 years old when she had her last child, an achievement in itself. A few years later the family moved back to the Geraldton area, farming at Eradu, where Mortyn and Jannette grew up. Phyllis always worked hard for her children, both in the workforce and at home. When the family left farming they moved to Geraldton, where she spent many years running Active Industries. Phyllis had a wonderful rapport with the children there and bonded with them and their families.

Phyllis and Roy were divorced when, in recent years before she became ill, she was self-employed as a baby-sitter extraordinaire for many families in Geraldton. She became a much-loved surrogate Grandma to more than one lucky child. Phyllis had a natural and beautiful love for children, and they seemed to be drawn to her.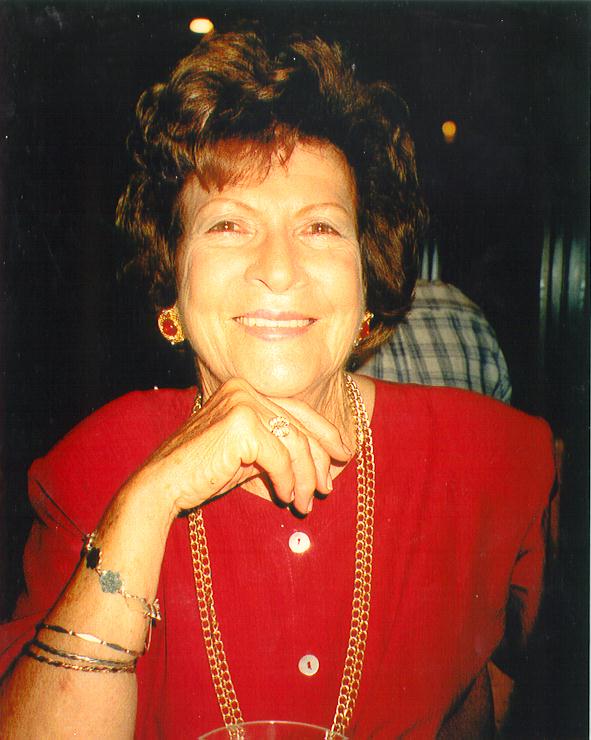 Phyllis loved, and was loved, by all of her six children, thirteen grandchildren and six great grandchildren, and all of them were a source of great joy to her. Although she did not enjoy good health during the last two years of her life, she had been reasonably well and with the help of her family and the Silver Chain nursing organization was living at her home during the weeks leading up to her death, on the 9 May 2000. It was at home that she passed away peacefully sitting in her chair in the front garden in the morning sunshine, which she so loved.

The huge crowd that came together to celebrate Mum's funeral service over flowed out of the chapel area and was a significant demonstration of her popularity and the high regard and love that family and friends felt towards her.

Children of Phyllis & George Brown:

Trevor John (b.1943)
Lindsay George (b.1944 d.2014)
Rodney Paul (b.1948)

Children of Phyllis & John Hollingsworth:

Syria (Tick) Dillwarra (b.1957)

Children of Phyllis & Roy Cotterell:

Mortyn Frederick (b.1965)
Jannette Suzanne (b.1967)