Trevor's Paternal Great Grandmother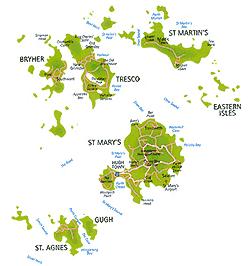 Trevor's Great Grandmother, Agatha Evelyn Jenkins, was born in the Scilly Isles, which are situated some 28 miles south-west from Land's End on the Cornish mainland. There are five inhabited islands: St Mary's, St Martin's, St Agnes', Tresco and Bryher.

Generations of Jenkins have lived in the Scilly Isles since the first seafaring Jenkins transporting coal and other essential supplies to the Isles fell in love with the Islands and made them their home. Over the years their numbers grew. So many, in fact, that the individual families were broken up into clans¯ and together they represented a significant proportion of the population of Tresco and Bryher Islands.

Agatha Evelyn Jenkins was Trevor's paternal Great Grandmother. She was born on 16th May 1870 on Tresco Island in the Scilly Isles, England, to Mary Margaret Jenkins. She was baptised 29th Feb 1872. The father's name was not given, though it is believed that his name may have been Augustus. Mary was described as a single woman.

Mary Margaret Jenkins was born 1 March 1846 at Tresco Island of the Scilly Isles to parents Walter Jenkins (b. abt 1801) and Peggy Prideaux (b.15/3/1812 - d. 1/9/1868). Walter and Peggy married 8 December 1831 at the Scilly Isles and had four children - Elizabeth Deason (b.1831), Walter (b.1835), Ruth Ann (b.1843). Agatha's mother, Mary, was their youngest child.

Richard Ellis Prideaux, a cousin of Elizabeth Deason Jenkins, left the Isles Of Scilly for New Zealand and Australia in 1862 to find land where he might make a new life with Elizabeth. At age 28 he sailed on the "Lady Egidia"¯ and arrived in Victoria in June 1862. He found land at Katandra near Shepparton in Victoria and it is believed by his descendants that he was the first settler in that district. Richard returned to Tresco Island only to find that in his absence Elizabeth had married Walter Jenkins Nicholls.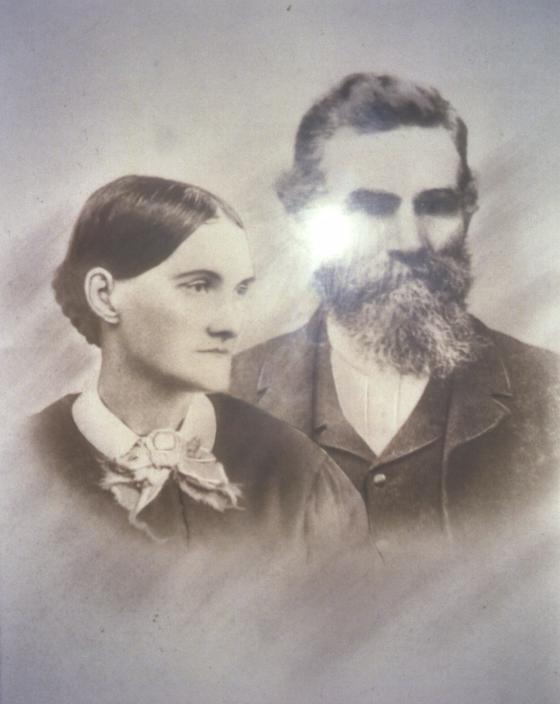 Richard then married Elizabeth's younger sister, Ruth Ann Jenkins. They immigrated from IOS to Australia very soon after their marriage on 24 September 1863. They departed on the sailing ship "Great Britain" on 15 October 1863 and landed in Victoria on 17 December 1863. They settled at Katandra and raised a family of nine children. Richard and Ruth are pictured here.

Agatha had an older brother, Douglas Alwyn Jenkins, who was born in the Scilly Isles about 1866 and baptised 5 September 1866. At the age of 32, Mary Margaret Jenkins and her two children, Douglas (11) and Agatha (8) immigrated to Australia. They sailed on the "SS Durham" and arrived in Victoria in September 1878 where they also settled in Katandra.

Douglas lived most of his life at Katandra. Agatha and Douglas had a younger brother when Mary (known by now as Margaret) gave birth to Hubert Leslie Jenkins born at Katandra on 5 October 1889. Hubert served in the army during both World Wars. He was awarded the Military Medal with Bar during WWI. Commonwealth Gazette' No. 23, dated 12 February 1919 reads: For conspicuous gallantry and devotion to duty in front of Petit Sec Bois near Strazeele (France) on 16th April, 1918. Private Jenkins was in charge of a stretcher squad and on many occasions carried wounded men from the Front Line under heavy artillery and machine gun fire. When the remainder of his squad was knocked out by shellfire, Private Jenkins, although wounded, bound the others up and carried one into the Dressing Station, then returned with another squad and brought in the remaining men. By his cheerful behavior under most heavy fire he set a splendid example to all ranks with whom he came in contact. Wounded body, not serious.

Upon his return following WWI, Hubert was granted one of a number of Soldier Settler Blocks in the Katandra district. Hubert and his older brother farmed there for many years.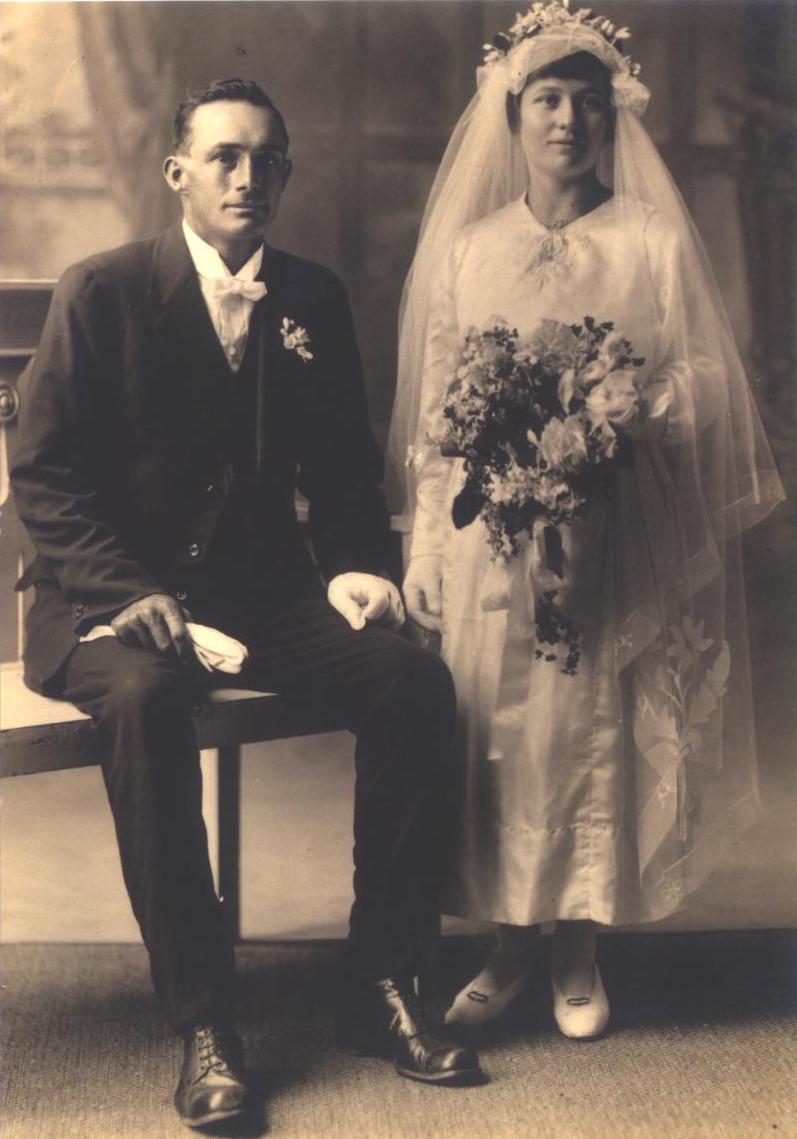 Hubert married Florence Christensen AULD on 19th May 1920 at the Union Church at Katandra in Victoria. Flor had also lived at Katandra and was the daughter of Donald Auld and Margaret Sutherland who were deceased at the time of the marriage. Flor was given in marriage by her stepsister, Margaret Sutherland, who had been appointed Flor's guardian by her parents before their death.

The marriage was a double wedding celebrated together with Hubert's cousin, Ruth Ann Prideaux, who married James (Jim) Morton who had also served in the army during WWI and was a close friend of Hubert. Sadly, Jim and Ruth lost their first child, Fay, in childbirth in 1921.

Florence gave birth to their only child, Alexander Leslie Jenkins, on 5th July 1921 at the Womens Hospital Melbourne. Tragically, Florence died on 8th July, shortly after delivering Alexander. Alexander was raised by Jim and Ruth Morton in Melbourne. Jim and Ruth had another five children: twins Fay and Glory, Shirley, Adelle and Elaine.

Hubert continued to work on the farm with his older brother, Douglas, until Douglas became unwell when he too lived with Jim and Ruth. When Doug required extra care he went into a nursing home at Cheltenham where he passed away in 1940. Doug's ashes were taken back to Katandra where Hubert placed them under Margaret's headstone. Hubert continued to farm at Katandra. He passed away in 1957 at age 68 years.

It had been assumed that Margaret Jenkins and her two children settled in Katandra to be close to and to have support of family. However, descendants of Hubert Jenkins have presented a more likely reason. Ruth Ann Prideaux died at age 45 at Katandra on 5 March 1889. She had been blind for the last 13 years of her life. She must have contracted this affliction about 1876. It is believed that Margaret came out to Australia to assist Ruth and Richard with raising their young children.

Richard Ellis Prideaux died in 1913 at age 83 and was buried in the Katandra Cemetery.

Margaret died at Katandra on 5 September 1909 having suffered an Oedema of the lung and failure of the Mitral Valve of the heart. She was also buried at the Katandra Cemetery on 8 September 1909.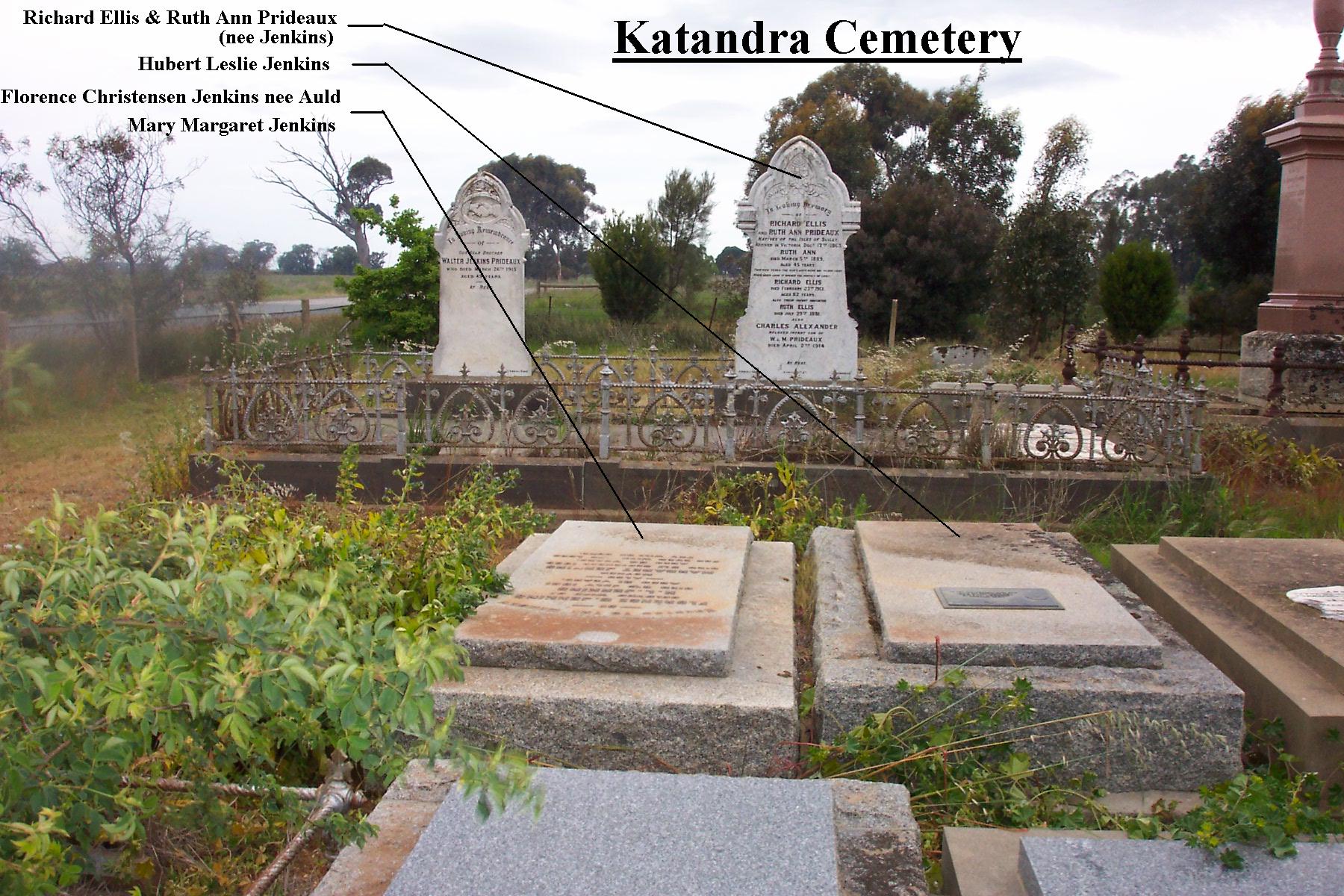 Margaret, Hubert and Florence are all interred beside each other, together with the ashes of Douglas, and close to the graves of Richard Ellis and Ruth Ann Prideaux and other relatives, in the Katandra Cemetery.

Agatha had a child, Alice Marion Jenkins, who was born in Shepparton Victoria, in 1887. Another child, Wilfred (Bill) Augustus Jenkins, was born in 1894 at Katamatite, near Shepparton.

Agatha married Fred Charles George Guyden in 1896 in Victoria. Fred was born in Germany. It's not known whether he died or they divorced, but Agatha then met and married John McGlenchy. John and Agatha's first child was named Margaret (Nell) Ellen, born in 1903 at Ballarat in Victoria. Margaret would grow up to marry Lindsay George Brown and they were Trevor's Grandparents.

John McGlenchy was born about 1865 at Castlemaine in Victoria and he was a miner. Following the birth of their first two children - Margaret (Nell) and Catherine Agnes (Ann) Evelyn (b.1906) - John and Agatha, together with Bill, Nell & Ann moved from the Ballarat gold fields in Victoria to Western Australia. There they lived at Yalgoo where Ruby (Pat) Lily Elizabeth (b.1909), Arthur John (Jack) Douglas (b.1911) & Mary Jane Amelia (b.1915) were born.

It seems likely that this move to Western Australia was about the time of Alice Marion Jenkins' marriage to Alfred John Thomas AH LOO (1872-1958) in 1902. Alice remained living in Victoria and she and Alfred had six children - Lily Jane (1905-), Ruby Alice (1907-), Margaret Violet (1907), Alfred Williams (1909-1910), William Charles (1913-1961) and Mary Ellen (1920-). All the children were born in Ballarat East. Alice and Alfred both died at Ballarat in 1958. Alfred was buried in the Ballarat Cemetery with the surname LOO.

It was somewhat puzzling that there were two Death Certificates recorded in the name of Alice Marion LOO and Alice Marion Townsend. It was also noted that Alice's name was given as Mrs Townsend in Agatha's obituary in 1953. However, no burial record was found for Alice in the Ballarat Cemetery under the surnames AH LOO, LOO or TOWNSEND.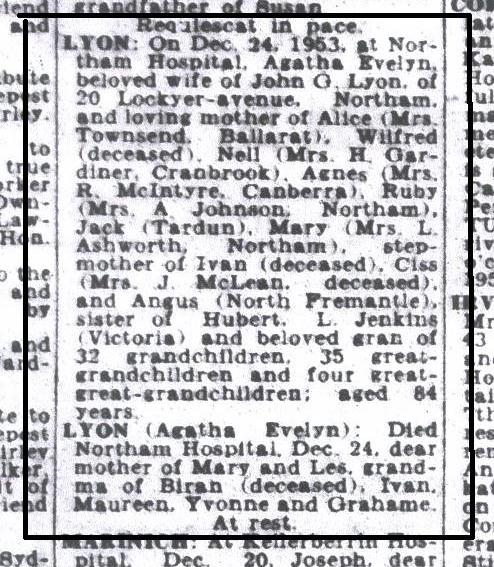 A descendant of Alice Marion LOO, Debbie Yates, kindly provided the following information, which helps to clarify this discrepancy. "Alice and Alfred separated sometime between 1924-1931 because the census and electoral roll had them listed together up until then. After that Alice was shown as living separate to Alfred John Loo. It was some time between 1931 and 1936 that she went to live with Len Townsend in Ainley Street Brown Hill Ballarat Vic, because the marriage certificate of William Charles Loo (her son) in 1936 shows Ainley Street, Brown hill as his present place of residence. Obviously he was living with her on the farm prior to getting married. Mum also can't remember having any memory of Alfred Loo and Alice Jenkins being together, and she was born in 1939.

Len Townsend owned a dairy property there. Mum and I did a search on the Internet and she recognised this house at no 6 Ainley Street as being the house she remembers them living in. Mum said when she was about 13-15 she used to go over there every Saturday and do about 4hrs housework for Grandma Loo while she went and worked in the dairy. I believe that they lived together but were never married. Also there was never a divorce from Alfred John Thomas Loo and we have been unable to find a marriage certificate for her and Len Townsend. Also on her death certificate it lists Alfred as her husband and says she was known as Townsend. We can only assume that because she lived with Len Townsend for so long that she became known as Mrs Townsend".

In the meantime, the McGlenchy family was living at Eleanor Street Geraldton when John died of Tuberculosis and Heart Failure at age 53 on 8th March 1919. He was buried on 9th March in the Catholic section of the Apex Cemetery, Geraldton WA. The priest who buried John was Father Hawse, later to become Monsignor Hawse, who designed the Cathedral in Geraldton and designed and built a number of other churches in West Australia.

John's Death Certificate states that he was aged 31 (abt 1864) when he married Agatha in Victoria. Clearly this is not correct as Agatha married Fred Guyden in 1866. It is surmised that this may have been John's way of accepting parental responsibility for Wilfred who was born in 1864. Wilfred was listed as John's eldest child on each of the younger McGlenchy children's birth certificates, but was not listed as his child on John's Death Certificate.






Agatha went on to marry John Gardener "Tiger" Lyon on 27th April 1929, at Mullewa WA, and they lived on for many years in Northam WA. John was born at Chittering WA on 11th June 1868 to parents William Lyon and Susannah Carter, the 3rd of 15 children. This was John's second marriage. He married Charlotte Hicks at Northam in 1889 and they had 11 children, all but three of them died as infants. The children were named:- Susannah Unity Viva (1890-1891), John Everett (1891-1891), Beatrice Jessie (1892-1892), Francis Douglas (1895-1895), Alfred Ivan (1896-1939), Lucy Gardiner (1897-1897), Gladys Minnie (1898-1899), William George (1899-1899), Angus Leslie (1902-1975), Louisa Clyde (Sissy) (1903-1942) and Donald (1905-1905).

John was a bootmaker in Northam, then later in Perth. He then spent forty years with the W.A.G.R. as a railway engine driver based in Northam and Geraldton.

Some time after Agatha and John were married, about the early 1930s, Agatha returned to Victoria to visit her family in Katandra and Ballarat. She is pictured above with her brothers, Douglas and Hubert Jenkins.





Agatha is pictured here at a similar age standing alongside her husband, "Pop" Lyon. There are some similarities between the two studio photos -" Agatha's clothing, the small square window panels and timber mouldings in the background that might suggest both photos were taken at the same time, which would indicate that Pop Lyon made the trip to Victoria with Agatha. This would fit in with the memories of Alexander Leslie Jenkins, who recalls that a relative, a railway man, visited them from WA while he was still a young child.

Agatha and John Lyon were always known by their family as Grandma and Pop Lyon. When he retired from the WA Railways, John and Agatha developed their small acreage at 20 Lockyer Street into a market garden. John's hobby was the breeding of birds and he had a large aviary.

Agatha was my Great Grandmother and I remember visiting them at 20 Lockyer Avenue, Northam, when our family visited them while I was a young boy. Being a city kid myself, I was fascinated by their large property and the underground cellar where they stored a wide range of home grown vegetables. The large underground water tank built of stone and the big cast iron hand pump to draw the water intrigued me. I recall that there was a tortoise that swam in that tank. Grandma and Pop Lyon seemed to my young eyes to be "ancient". For many years Pop had a large goiter behind one ear. Grandma seemed a tough and cranky old lady and would slam her walking stick noisily onto the tabletop if we didn't eat everything on our plate.



Grandma Lyon died on 24th May 1953 at the age of 83 at the Northam Hospital of Senile Exhaustion and Arterio Sclerosis. She was buried in Plot 90 in the Anglican Section J of the Northam Cemetery. Pop Lyon died at Northam 17th July 1958 aged 90. He was laid to rest with Agatha where they share an unmarked grave in a barren, sandy section of the cemetery - in stark contrast to the traditional headstones and concrete edging of many other Lyon Family graves within the Northam Cemetery.

Agatha's Children:

Alice Marion (1887-1958)
Wilfred Augustus (1894-)
Margaret Ellen (Nell) (1903-1971)
Catherine Agnes Evelyn (Ann) (1906-)
Ruby Lily Elizabeth (1909)
Arthur John (Jack) Douglas (1911-1980)
Mary Jane Amelia (1915-2003)