John Dunlop was born in Argllshire, Scotland about 1777. Much of what has been learned about John's life is based upon the writings of his grandson Charles Thomas Dunlop, son of Thomas William Dunlop. Another source, are the stories and writings of Mary Ann Dunlop, another of John and Sarah Dunlop's children, which have been passed on to me by Mrs. Maureen Player, a descendant of Mary Ann Dunlop, or Polly, as she was known. More recently I have learned more about the life of Paulette's Great Great Grandfather from Ron and Freda Page. Ron is a descendant of John Dunlop and Maria Glissen, an earlier marriage.

It's interesting to learn that Ron and Freda Page only recently learned about John Dunlop's later union with Sarah Healey when they attended a Dunlop Family Reunion held at Ballarat where they met many descendants of John and Sarah. Similarly, Maureen Player didn't know of other descendants and was quite unaware of, and disappointed to miss out on attending, past Dunlop Family Reunions. The stories about John Dunlop passed down through these quite separate and somewhat isolated branches of the family are remarkably similar.

Paulette's brother, John, has also written about his Great Great Grandfather and much of his version is also included here. John wrote; "Research into the life of my great-great grandfather John Dunlop, has proven frustrating. It appears much of his history was deliberately muddled and confused. Perhaps the fact he was married up to perhaps five times explains the hazy detail of large portions of his life, as it is apparent he walked away from three of these marriages without a formal divorce procedure. Absent facts are a part of any family history and much of this story is anecdotal narrated by my great uncle Charlie. How much is sheer imagination I can only guess! However, visits to Ayrshire, Launceston, Geelong, Malmsbury and Ballarat have provided some validation of this history"€¯.

Mary Ann, like her Father, lived a long life and before she died on 10th October 1953 at about age 93, she had been interviewed extensively and many of her memories of her childhood and her father have been documented. Mary Ann wrote that she could not remember ever seeing a photograph of her father and describes him as tall, broad in the face, with auburn, curly hair. According to her writings, her father came from a good family. It is understood that he was the son of an army officer and that he made the acquaintance of the young Queen Victoria when she stayed in the vicinity of their Glasgow childhood home.

Whilst visiting Ireland and carrying out some family research, Paulette's older brother John Dunlop, learned the following about his Great Great Grandfather: Living an undistinguished childhood until his sixteenth year, John migrated to live at Dungarvan in County Cork Ireland where he managed a farm for an English landlord with whom his father had established a debt. On the farm he became an accomplished horseman and he later purchased a commissioned rank of Captain in the British Army's Irish Cavalry Regiment. Captain John Dunlop's time in the Irish Cavalry saw him married for the first time to Sarah Campbell of the Dungarvan Campbell's and fathered two daughters, the first of twelve offspring from his five marriages. The Irish regiment and its cavalry served with distinction under The Duke of Wellington at the battle of Waterloo in 1815 after which Dunlop was discharged from service in 1816¯.

Another, and perhaps more widely held belief about John's military career, and one held by both Mary Ann Dunlop and Thomas William Dunlop's families, is that he entered the army, €"The Queen's Regiment€", joining the cavalry. They too claim that he served at the Battle of Waterloo under the Duke of Wellington and saw Napoleon. His daughter, Mary Ann, wrote that he was injured with a sword blow to his shoulder and carried the scar for the rest of his life. Apparently he also had an argument with another officer and dragged him from his horse. This may well have inhibited his military career.

Research into the Waterloo Veterans suggests that the two cavalry regiments named for the Queen were the 7th Hussars and the 16th Light Dragoons. Inquiries to the UK have brought no light on this point although there was a William Dunlop in the 2nd Dragoons (Royal North British) who saw action and was wounded at Waterloo. This fact is interesting, as it has been suggested that John's father was named William and it is possible that it is also John's formal name. The family claims that John kept his uniform including a sabre and crimson sword sash. The uniform was apparently pawned during the great Depression and it is unclear what happened to the sabre. Mary Ann wrote; I saw the sword as a girl, my father always said it was to be mine, but I don't know where it is today€¯. The sword sash is still at the Ballarat Historical Society Gold Museum.

Around 1842 John arrived in Portland with the Henty family. His daughter Mary Ann Dunlop states that her father emigrated from Scotland to Van Dieman's Land. This is partly supported by yet another version that goes on to add: John Dunlop was a passenger aboard the merchant vessel Arduous as a livestock stevedore, having accepted an assignment from the Henty family of Hobart Town, Tasmania, Australia to deliver 200 head of cattle plus 30 horses loaded from Portsmouth England. Upon arrival in Tasmania, he discovered the Henty family had moved to Portland Victoria and he duly transferred the stock across Bass Strait to this new settlement.

According to the writings of his grandson, Charles Thomas Dunlop, John Dunlop emigrated from Scotland to Northern Ireland and was married as a young man. He was an excellent horseman and good with cattle. Leaving a grown up family in Ireland, John came to Australia with cattle for the Henty family at Portland in Victoria. Edward Henty (1810-78) is generally regarded as the first European to settle permanently in Victoria. According to family anecdotal evidence, John was a long-standing friend of Edward's brother, Stephen Henty, and he worked for the family, drawing on his cavalry experience to look after their horses.

In a later letter, dated 11/12/1967, Charles wrote to his Grandnephew, Paulette's brother David Dunlop, describing his understanding of the background to John immigrating to Australia:- He (John) was occupied in illegal business with others in small craft delivering spirits mostly, and other cargo, to various places along the French coast, and the party of them were surprised by the coastal customs officers one night - who had been on the lookout for them. And there was a bit of gun play and one of the customs officers was shot. Grandpa John's party escaped to England and our John, thinking discretion the better part (of valour) joined up with a party from England taking cattle to Australia.

Upon reading this letter, I was reminded of a statement recently made to me by Paulette's older brother, John, who wrote:- Perhaps I am one of the few who has traveled to Ayrshire and Dungarvan looking for information about early Dunlop's, but after kicking over the rocks the only thing I am sure of is that he was a rascal.

John Dunlop had intended to return to North Ireland but married again, a woman Charles Thomas thought was named "Hannah". It is now thought that this woman would have been Maria Glissen, who at 29 married John at Geelong on the 26 July 1843. They had a son, John, who was born at Geelong in 1844. Maria died at age 34 in 1848 and is buried at St. Marys Catholic Church in Geelong. The younger John went on to marry Jane Williams (nee Mylrea), a widow with a daughter, at Geelong on the 19th December 1867. Charlie's letter to David said: Aunty Jane we called her. John and her had two children, Arthur and Eadie (Edith May). Some of their offspring are round Melbourne now. This daughter of Aunty Jane married a man named Gilbert Clark.

John Dunlop is held in high regard in Dunlop folklore as the man, who with his mate James Regan was the first to find gold at Ballarat. How many people can look back over family history and find an ancestor who died following a fall from a horse that he was breaking in at the age of 96? When John died on 1st December 1872 his youngest child, Sarah Victoria Dunlop, was only 5 years old.

When the first whispers of gold were heard, John was on the spot at Buninyong immediately but, with the area becoming over-run by prospectors, he moved away in the direction of where Ballarat is today. Going quietly back to camp at Buninyong, he recruited James Regan and they left (again quietly) to return to Ballarat. A passing newspaperman saw their activities, and this is perhaps how the Ballarat gold rush was triggered.

Although John Dunlop and James Regan were credited with the discovery of gold on 21st August 1851 at Poverty Point (near the present tourist attraction at Sovereign Hill), and the memorial stands there, they never received any part of the rewards that had been offered for discovery of gold within 200 miles of Melbourne.

Mr. Alfred Clarke, a respected journalist from the Geelong Advertiser newspaper, was a principal witness before the Select Committee appointed to decide who was entitled to the reward posted by the Victorian Government for the first person to discover a gold mine or deposit capable of being profitably worked within two hundred miles of Melbourne. Clarke's reports and evidence before the Committee are quoted in a book, "Gold at Ballarat" written by H.C.Stacpoole (Lowden Publishing Co., 1971). Clarke confirmed that Dunlop and Regan were the first to discover gold at Ballarat but like them, he was confused about the dates. A report by Clarke in The Argus of 8th September 1851 suggested that henceforth the diggings should be called Dunlop and Regan's Diggings in their honor. Dunlop had a letter published in the Argus on 15th September claiming to be the first at Ballarat to find gold. However, the Select Committee found the evidence confusing and decided that the best solution was to give the honour of the Ballarat discovery to Hiscock as the discovery of Ballarat was but a natural consequence of the discovery of Buninyong.

A stone memorial was erected by the Ballarat Historical Society to commemorate the discovery of gold by Dunlop and Regan at Poverty Point.

The gold-fields had mushroomed extraordinarily from September to November 1851 but were almost deserted by Christmas as the diggers moved on to the new fields at Mount Alexander. After a few successful months on the Ballarat gold-field, Dunlop's friend Regan went to Melbourne married and moved to the Maitland coalfields. Dunlop returned to Geelong to his business interests and his young son. John married Elizabeth Ann Pemberton on 27th May 1853, a stepmother for young John. Elizabeth was a widow of a butcher and she had 5 children. John and Elizabeth did not have children.

By Geelong West rates records it appears that Dunlop owned a small cottage at 34 Spring Street, Ashby, known as Little Scotland, West Geelong. By 1852 it had expanded to two rooms and a bakehouse on three adjoining blocks. By 1854 it had expanded to a double storey building that still exists. A paddock near the house with creek frontage was used for stock and John Dunlop frequently made trips to Tasmania, probably to deal in stock. The property is not far from the present day Geelong railway terminus. John Dunlop was not at Ballarat at the time of Eureka but he knew Peter Lalor well and, with John's military background, he was able to give advise to the miners.

Great-Uncle Charlie's writings claim that; as a supplier of provisions to miners in Ballarat, John Dunlop continued an active role with the diggers and although he was not on-site during the fighting at the Eureka Stockade rebellion, he was certainly sympathetic in their dispute with the authorities. He was one of the diggers who arrived at the scene immediately after the battle to tend wounded and claim the dead. Amongst the wounded found secreted was the nominal rebel leader Peter Lalor, whom Dunlop spirited away to his Geelong property to treat his wounds and provide shelter.

As charges of treason and insurrection against the crown had been laid against Lalor, John Dunlop as a former English military officer who had not taken an active role in the rebellion was nominated by the Lalor supporters to return to England to appeal to the Privy Court for Lalor's pardon. A deed he successfully accomplished. He did however, plunge himself into a personal crisis. As might be expected these affairs detained him in England for eighteen months before his eventual return to Australia. During this period his Australian estate had been left in the care of a solicitor, Mr Edward Crick. This fellow had disappeared on-board a vessel bound for the U.S.A. but met with an untimely death shortly after arrival in America and a major part of Dunlop's fortune was gone - never to be recovered.

His marriage to Elizabeth also appears to have dissolved while he was away. It is surmised that she may have assumed that John had died while overseas and never expected to see him again. John found that he now had nothing. His home at 31 Spring Street had been sold, and he went to Steiglitz where he prospected for gold. About this time, perhaps on the voyage back to Australia, John met a young Irish migrant girl from Limerick, Sarah Healey. Sarah had become pregnant by a factory hand at her Father's Lace Factory at Limerick in Ireland. Her parents, prominent Catholics, had disowned her. John and Sarah had six children, including Thomas, who was a mining engineer and who was Paulette's Great Grandfather. John and his family moved to Steiglitz following the gold-rush to that area. The birth certificate of their youngest child, Sarah, records that John and Sarah married on 9th May 1858. Although I haven't a copy of their marriage certificate, I have been advised that the Port Phillip Pioneer's Group claim that one exists (#18361).

In 1868, the birth registration of Sarah, their youngest child, states that the family was living at Stony Rises diggings, which were near Mt. Doran and Steiglitz. John's occupation at that time was given as butcher. The family also lived at Elaine for many years where John ran a successful butchers and abattoirs business.

About two years after John's death on 1st December 1872, Elizabeth Dunlop married Peter McKenzie on 24th September 1874 and operated a boarding house in Spring Street, Geelong. Their Marriage Certificate describes Elizabeth Dunlop as a widow as of 1872, which suggests that Elizabeth and John were never divorced.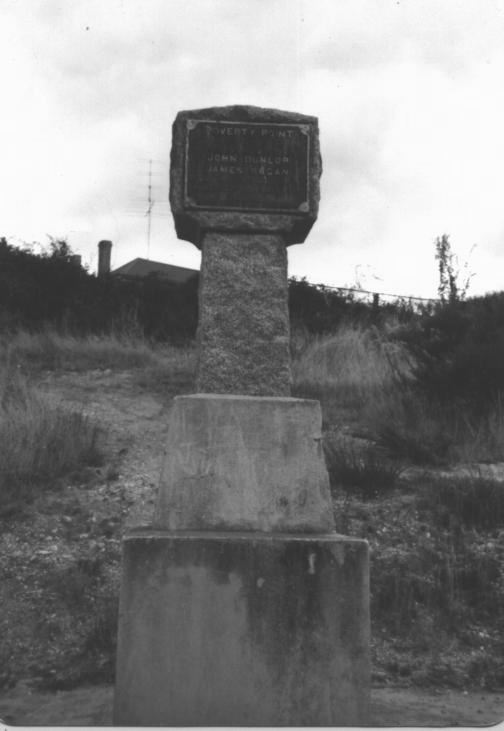 This obelisk marks the site at Poverty Point on Main Rd where John Dunlop and his young prospecting partner James Regan discovered gold on August 21, 1851 - 150 years ago


The following newspaper article by Angela Carey, deputy editor of the BALLARAT COURIER, Tuesday, August 21 2001, provides more on the life and death of Paulette's Great Great Grandfather:







POOR RICH MAN


Co-discoverer of gold buried in pauper's grave

"The man credited with the discovery of gold in Ballarat 150 years ago today lies in an unmarked pauper's grave at the Ballarat New Cemetery. John Dunlop was a 75-year-old veteran of the Battle of Waterloo when he and his young prospecting partner James Regan discovered gold at Poverty Point on Main Rd., Ballarat on August 21, 1851 - 150 years ago. The pair had been trying their luck at the newly opened gold-fields of Buninyong and Clunes and stumbled upon their Ballarat find while traveling between the two areas. The find led to the unearthing of one of the richest tracts of gold in the world.

An obelisk marks the site of their fortune, but as the city today prepares to celebrate the discovery and the long-lasting riches it brought the town, which grew from it, John Dunlop's final resting place has been lost among the graves of paupers.

Cemetery records show Dunlop was buried in the 'open ground' section of the cemetery reserved for the destitute. He was buried on December 3, 1872, aged 96. This was a remarkable age given the life expectancy for men of the era was between 50 and 60. However, family history would suggest he was far from a pauper at the time of his death and the reasons for his burial in the unmarked grave remain a mystery.

Ballarat historian Anne Beggs Sunter said it appeared the hospital had arranged for Dunlop's burial without the knowledge of his family. "He died during an operation, and without any member of the family around, he was buried without anyone notifying his wife", Ms Beggs Sunter said.

Up to his death, Dunlop had been running a successful farm and butchering business at Elaine with his wife Sarah, who was many years his junior, and their six children. In 1872, he fell from a horse he was breaking in and was taken to hospital in Ballarat where he died on the operating table 8 days later. Cemetery records and his Death Certificate list his cause of death as peritonitis.

Ballarat General Cemetery's secretary/manager, David Beames, said individual graves within the paupers' section were not distinguishable from each other. "There are probably a couple of hundred people buried in this section, but there were never any records kept of where they were specifically," he said. Early Ballarat historian W.B.Withers puts the first discovery of gold in Ballarat at Golden Point, however, later historians believe the Dunlop/Regan find occurred first, albeit only days earlier."

Children of John and Sarah:

Thomas William (1859-)
Mary Ann "Polly" (1860-1953)
Ellen Frances (1863-)
Alexander (1864-)
Jane (Jeanie?) (1866-)
Sarah Victoria (1867-1945)


Thomas William DUNLOP

Birth: 15 Mar 1859, Steiglitz

Spouse: Margaret Ann McDONALD
Birth: 21 Oct 1857, Duck Ponds (now known as Lara)
Death: About 1931
Father: Joseph McDONALD (1823-1893)
Mother: Margaret WINTERBOTTOM (1827-1915)
Marr: 5 Aug 1881, Geelong Vic

Children:

Adelaide Ellen (1882-1963)
Charles Thomas (1884-1977)
Ronald Thomas (1886-1976)
Arthur Joseph (1888-)
Juliet Victoria (1890-)
Lalla Olive Agnes (1893-1893)
Alexandrina (1896-)
David John (1900-1989)