George Snushall was born at Araluen NSW to William & Elizabeth Snushall on 17th October 1861. He had an older brother, William Lindsay Murdock Graham Snushall who was 4-years old, and another, John Colin Roberts Snushall, who was also born at Araluen in 1860. George and his family had many moves to different gold field towns in New South Wales and New Zealand.

Whereas his parents and siblings all spelt their names Snushall, George consistently spelt his surname as Snashall in most records and many of his children's names were spelt Snashall in their record of birth. A number of his children went on to continue spelling their surname as Snashall, as evidenced in a number of BD&M records, which accounts for the different spelling of that surname used in these web pages.

George was living at Mount Hope when he married Catherine Josephine Cassidy. Catherine was born at Gundagai NSW on the 26 October 1862 to parents William & Bridget Cassidy who were farmers who lived and worked on a portion of the Nanangroe Run, originally owned by Bridget's parents, John and Ann Sheehan. Catherine lived at Nanangroe until about 1875 when she was about 13 years of age, when the family moved to Darbalara. Darbalara is situated near where the Tumut River meets the Murrumbidgee River, not far from Tumut and Gundagai. It is rich river flat country. The family remained living there after the death of Catherine's father in 1879 and they were still living there when Catherine left home to get married in 1883.

Catherine married George Snushall in the St. Johns Church of England at Gundagai on the 26th February 1883. Catherine Cassidy's parents were staunch Catholics and it is believed that George Snushall's family was equally staunch Presbyterian. They married in an era when mixed marriages were strongly opposed. Typically, the Catholic family of a girl marrying in another church would not condone the marriage nor would their church allow them to attend the church service. It is surmised that Catherine's marriage to George in the Church of England may have caused a huge rift between Catherine and her family, though it is noted that her brother, Michael, was a witness at the wedding.

George was a Blacksmith who, at the time of their marriage, lived at Mount Hope. George and Catherine must have remained there for a time as their first child, Sarah, was born there in 1884. Their second child, Elizabeth, was born at Adelong in 1885 and Maude was born in Cambelltown in 1887. They apparently moved to another mining area, Cobar, where Lindsay was born in 1879. A further move to Broken Hill saw brothers, William and Collan, born in 1891 and 1893 respectively. The family returned to Cobar where Ida and Edward (Ted) were born in 1895 and 1896. Sadly Ida died on 28th October that same year, aged 3 months. Their youngest daughter, Ada, was born at Bathurst in 1899. It was known that at least one son, William Harold, was a miner who worked in the mines at Cobar.

Their eldest daughter, Sarah, married Henry Hutchings at Cootamundra NSW on 11 July 1899. At that time it was stated that Sarah lived at home with her parents at Orange NSW. Sarah and Henry had a daughter, Henrietta Hutchings, who was born at Cobar in 1904. Also in 1904 another of George and Catherine's daughters, Maude, married Norman Attwood at Bathurst.

It seems that some time after Ada's birth in 1899, possibly after Maude's marriage in 1904, George and Catherine with the younger children moved to Western Australia. This is confirmed by Catherine's mother's obituary when Bridget died in 1906, which listed her surviving children, including "Mrs. Snushall living in Western Australia". When Catherine's younger brother, Michael Cassidy, died in 1915 his obituary also records Mrs. Snushall was living in WA

A surviving granddaughter that I spoke to remembers that Catherine and George separated whilst their younger children were still quite young and Catherine was left to bring them up alone. It is surmised that George and Catherine separated some time about 1915 while the family lived in WA and Catherine and most of the children returned to live in NSW.

Their son, Lindsay Murdock Graham Snushall, remained in WA. He too was a miner and was known to work in the gold mines of Kalgoorlie before he joined the AIF during WWI in 1916. When he enlisted in the Army he changed his name to Lindsay George Brown and kept that identity until he died. Catherine wrote two letters to the Army in 1918 while Lindsay was fighting in France. In those letters she acknowledged Lindsay George Brown to be her son. Catherine and Lindsay remained largely estranged and at the time of her death in 1934 she had not been informed of his death, which had occurred in WA in 1932.

Catherine is described as "a real lady, a lovely natural person who was hard working and very generous". The surviving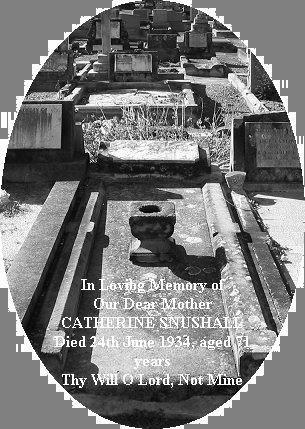 granddaughter, mentioned above, said that at one time Catherine lived and worked at a hotel in Broadway in Sydney where she cleaned rooms, helped with the laundry and prepared breakfast for guests. She used to visit her son, William Harold Snushall, and his family every Thursday or Friday and always came with gifts of fruit for the family. This was at a time following the Depression when things like that were expensive and hard to come by.

Catherine was living at her daughter, Maude's, home at Mascot NSW when she was placed in the Sacred Heart Hospice in Sydney where she died of Chronic Myocarditis on the 24th June 1934 at the age of 71. She was buried at the "Field Of Mars Cemetery", Ryde NSW (Section C; Site 324).

The Funeral Notice published in the Sydney Morning Herald indicated that those in attendance would include Mr & Mrs Norman Attwood (Catherine's daughter - Maude Attwood nee Snushall); Mr & Mrs J. Collins (Catherine's daughter - Elizabeth (Edna) May Collins nee Snushall); Mr & Mrs V. Williams (Catherine's youngest daughter - Ada Alma (Ray) Williams nee Snushall); Mr & Mrs E Snushall (Catherine's son Edward (Ted) James Snushall); Mr & Mrs W Snushall (Catherine's son - William Harold Snushall); Mrs George Beattie (Catherine's older sister - Mrs Amanda Mary Beattie nee Cassidy)

Two years later Catherine's older sister, Amanda Mary Beattie (nee Cassidy) was interred with Catherine when she died 25th July 1936. Amanda was buried on 27th July 1936. The inscription on the headstone was never altered to reflect Amanda's internment.

George Snushall was living with his eldest daughter, Sarah Emily (Ivy) Reed at 81 Manton Street, Hindmarsh, at Adelaide, South Australia when he died at the age of 73 on the 26th March 1935. He died in the Adelaide Hospital of aortic incompetence causing myocardial failure.





He was buried on 27 March 1935 and was interred in the same plot at the Hindmarsh Cemetery with Sarah's husband, Joe Reed, who died in 1931. Sarah was later laid to rest with her husband and her father when she died in 1951.

Note: George was born a Snushall and when he married Catherine their surname was spelt Snushall in the record of their marriage. However, four of their nine children's birth records were spelt Snashall; the other five were spelt Snushall. In two letters that Catherine sent to the Army in 1918, she spelt her name as Snashall. Her Death record in 1934 spelt her surname Snushall. Other examples of this are that records show that his daughter, Maude's, family uses the surname Snushall whereas his sons, William Harold, Edward James, Collan Graham and daughter, Sarah Emily, all spelt their surname as Snashall. George's surname on his cemetery record and funeral notice was spelt Snushall. It was spelt Snashall on his Death Certificate.

The NSW dept of BD&M say that this may have been due to pronunciation or spelling errors typical of that period when recording the births, but the spelling of the surname, Snashall, by George and Catherine's family occurs far too often to be considered an error.



Children of George and Catherine:

Sarah (Ivy) Emily (1884-1951)
Elizabeth (Edna) May (1885-1947)
Maude Ada Ethel Victoria (1887-~1978)
Lindsay Murdock Graham (1889-1932)
William Harold (1891-1971)
Collan Graham (1893-1951)
Ida Alma (1895-1895)
Edward (Ted) James (1896-1943)
Ada (Rae) Alma (1899-1957)