Sarah (Ivy) Emily Snushall, aka SNASHALL, was born at Mount Hope NSW in 1884 to parents, George and Catherine Snushall. Sarah was still living with her parents at Orange NSW when, on 11th July 1899, she married Henry (aka Harry) Hutchings in the Office of Births Deaths and Marriages, Cootamundra NSW.

Henry lived at Cobar NSW where he was a miner. He was 26 years at the time of the marriage, which means that he was born about 1873 to parents George (deceased) and Alice Hutchings. Their Marriage Record states that Sarah was 18 years but her Year of Birth would make her 15 at the time of their marriage. This marriage record also confirms that Sarah's surname, and that of her parents, was spelt Snashall at that time.

Sarah and Henry had 4 children:- William Arthur Hutchings b 23 Apr 1901 at Wellington NSW; Ada Hutchings b1902 at Boulder WA; Henrietta Hutchings b.1904 in Cobar NSW. No information about the 4th child. The family moved to work on the Kalgoorlie/Boulder gold-fields in West Australia where Henry died in a mining accident on February 25 1908, down on the 1100ft level of the Golden Horseshoe Mine at Boulder WA. Later that same year their young daughter, Ada, died of diphtheria during an epidemic at that time.

Later in 1908 Sarah married William Joseph (Joe) Reed at East Coolgardie WA. Of Sarah's children by her 1st marriage - Henrietta kept her surname and went on to marry Laurence Edwin Atkinson in 1922 in Angaston SA.when she was 18 years old. William changed his surname to REED. He went on to marry Nellie GARRETT, daughter of Samuel GARRETT, in Angaston SA on 1 July 1925.

The family later moved to live in Kadina, South Australia about 1915. Joe was a miner so it is likely that he worked at the Wallaroo Mine, a huge copper mine located at Kadina, or the Wallaroo Smelters located close-by at Wallaroo. They were living at Kadina where their children:- Edna Joy, Joe, Bert and Roma Reed were born in 1915, 1916, 1918 and 1919 respectively.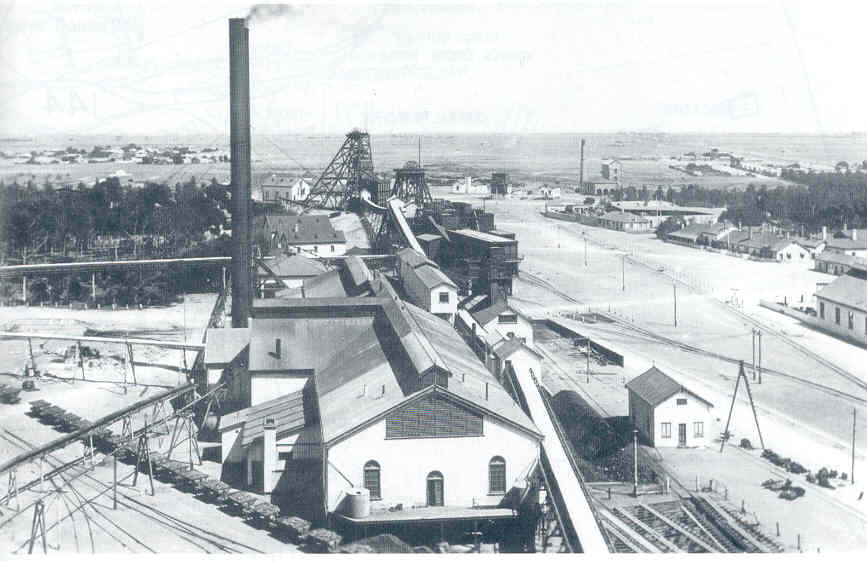 WALLAROO COPPER MINE

The above photo was taken in 1915, about the time Sarah and her family moved to Kadina. The mine produced copper from the early 1860's but after the end of World War I the price of copper plummeted and the Mine went into liquidation in 1923.

Sarah and Joe were living at 81 Manton Street, Hindmarsh, Adelaide, when Joe died on 1 December 1931 at age 57.

It is noted that Sarah's father, George Snushall, was living with Sarah at that address when he died at age 73 on 26 March 1935 and he was interred with Joe at the Hindmarsh Cemetery. It is possible that George, a blacksmith and miner, may have moved from WA to SA with Sarah and her family and worked at the Wallaroo Mine at Kadina.

Sarah died age 67 on 9 June 1951 and she was interred with her husband and her father at the Hindmarsh Cemetery in Adelaide.

Sarah's Death Notice lists five children - Bill (first born of her first marriage), Edna Joy, Joe, Bert and Roma Reed. Sarah's other children by her first marriage, Ada and Henrietta Hutchings were not listed.